Dr. Yvette Appiah is the founding chief operating officer and managing partner of AllPhases Dermatology, LLC, located in the Washington D.C. metro area. A graduate of the University of Chicago's Pritzker School of Medicine, Appiah completed her dermatology residency training at the prestigious Hospitals of the University of Pennsylvania and has been in private practice for 16 years.
This year, she is on the path to make history. She is one of three founding medical doctors, all Ivy League-educated and board certified dermatologists, who formed the company SkynergyMD. In partnership with Dr. Neh Onumah and Dr. Oge Onwudiwe, they are launching their high-end cosmetic brand SkynergyMD in the United States this spring.
Here, she shares her story.
Describe your personal skin journey.
My relationship with my skin was not a glamorous one in my childhood. I was afflicted with severe eczema, a condition of the skin that causes persistent itching, rashes and skin irritations. I suffered from a wide list of skin allergies and my sensitive skin was constantly marred with scarring as a result.
What skin regimen were you taught as a child?
Due to my sensitive skin, I was limited to literally one brand of body wash, one brand of skin moisturizer. I was required to moisturize several times a day to keep my skin from drying out, or risk flaring of my skin condition. These experiences mandated that I keep it simple. There was no experimentation but what it did was teach me that if I was kind to my skin, it would reciprocate ten-fold.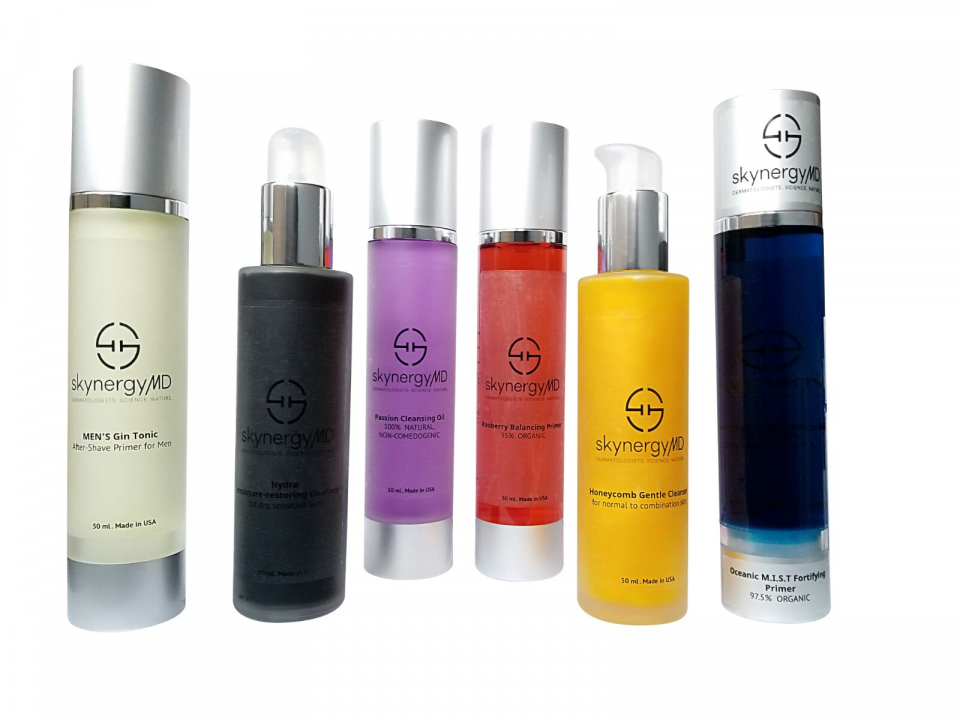 Do you still follow it today?
Absolutely. I never miss the opportunity to lavish my skin with conditioning moisturizers, paying attention to ingredients in soaps, lotions, make-up and the like.
What do you know about your skin?
It is mostly dry and extremely sensitive to additives particularly fragrances, preservatives, nickel and it needs constant attention.
What is/was your biggest skincare mistake or faux pas?
Wanting to emulate my mother and put on make-up, try on jewelry and wear perfume. That never ended well for me or my skin because the end-result was always rashes, and specifically, the last time I did, I developed large blisters on my entire body that took six weeks to resolve. Even though this happened in early adolescence, I still have the scars to remind me. Needless to say, I have never indulged in such foolhardy practices since.
What is a basic skin care regimen?
A good moisturizing cleanser, an antioxidant or peptide serum and moisturizer with sunscreen in the morning. At night, repeat cleansing and apply retinol or Glycolic acid, followed by a moisturizer with humectants.
Why is this product important?
Cleansers and alpha-hydroxy acids remove excess oil, dirt and dead skin cells from the top layer of the skin to allow the younger healthier cells to rise to the top, giving your skin a youthful, radiant appearance. Antioxidants reduce the harmful effects of free radicals formed by sunexposure to avoid premature death of healthy living cells and prevent the aged look. Peptides and retinol stimulate collagen production increasing the firmness of your skin to keep sagging of skin and wrinkles at bay.
How did the three of you meet?
Dr. Onumah and I met during my residency in dermatology, 18 years ago, at the Hospitals of the University of Pennsylvania while she was interviewing for a basic science research fellowship in the
department after completing her internal medicine residency. Dr. Onwudiwe and I met when I interviewed her for a position in my dermatology practice seven years ago. Needless to say and very unusual, I became fast friends – really more like sisters – with each of them, immediately after meeting them. I introduced the two of them about five to six years ago after many phone conversations amongst ourselves.
How did you come up with this idea to make this product?
Dr. Onwudiwe and I were having a casual conversation about Africa during lunch one day and found out casually that we were both thinking of starting a skin line but just hadn't gotten round to it. We decided that it was time to put our ideas into action in a joint venture. I knew Dr. Onumah and I had always discussed sharing our skills beyond the borders of the U.S. in various ways in dermatology so I was certain she would be interested in joining forces.
What do you like most about the product?
The products in the SkynergyMD line are universal and bespoke. They cater to all skin types, while considering all ethnicities but are particularly made to suit African skin, by considering the ecology, weather and culture of the continent.
Interview by Rollingout